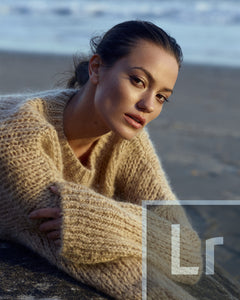 18 Presets to take your skin tones and color grading to the next level
Based on my Capture One Editorial style pack that was initially developed in collaboration with the team at Capture One, I have taken the same principles and applied them for Lightroom users. These styles are geared towards portrait, fashion and beauty images, but work on a variety of genres. The pack contains 12 color grade, 2 monotone, 2 black and white, and 2 skin tone correction styles that can be applied across a variety of images types. The skin tone correction styles are useful for fixing the two most common issues of skin tone cast and are designed to be applied prior to your retouch in order to start with a neutral base. The remaining styles are meant to be applied at the end of your retouch to give anything from a subtle to dynamic color grade within your final images. The video below will give you a better idea on how you can use this pack to its full potential.
This style pack will work for Lightroom Classic Only. For best results, be sure to have version 8 or above installed.
My goal in creating these styles was to focus around the colors that resonate with me across a variety of shooting scenarios. I'm typically drawn towards strong yet refined contrast as well as complementary colors, and so that's what these styles really focus on and draw from. Rooted in sound color theory, I wanted to keep them all within the same family so each one feels like a natural progression as you explore them on your own images.
Styles Included:

BW Classic, BW Contrasted
Mono Cyan, Mono Yellow
Cali Sun 1, Cali Sun 2
Chill 1, Chill 2, Chill 3, Chill 4, Chill 5, Chill 6
Retro 1, Retro 2, Retro 3, Retro 4
Skin Tone Corrector Red/Magenta
Skin Tone Corrector Yellow/Green
BW styles come in the classic, more natural variety along with a more contrasted option. Mono styles offer a slight cast of cyan and yellow/blue respectively. Cali Sun styles are meant to warm up the image quite dramatically and are best for outdoor images. Chill presets cool down images, particularly in the mids and shadows while warming the highlights slightly. These vary in their intensity and the degree to which cyan and magenta tones find their way into the image. Retro styles are meant to give a more vintage look and make use of cyan and yellow tones while offering a lower contrast. 
A few sample images can be seen below but the above video will give you a better idea of how these presets look.